The oil-tasting glass embodies the importance of sensory analysis and has become something of an icon for olive oil culture.
The chemical and biological features of all oils are best appraised in a laboratory, by means of chemical analyses. In the past however, the organoleptic character of olive oil – in layman's terms, its scent and flavour – was never evaluated in an objective manner, nor was it systematically taken into account, if not by a handful of retail buyers. Those who wanted to assess its bouquet would pour a few drops of olive oil into their cupped hands, rub them vigorously together and bring them to their nose, to smell the aroma thus released. Their evaluation was obviously based on subjective criteria.
The chemical and biological composition of olive oil is doubtlessly an important factor, but in the end, it is the aroma and flavour that determine whether the end consumer will appreciate and buy it.
With the passing of time, oil tasting became more objective: it was agreed to use a more scientific approach, and it therefore became necessary to lay down an international set of rules and regulations. ONAOO, i.e. the national organization of olive oil tasters, was established in 1983.
The tasting glass is considered something of an icon, the element embodying the growing importance of sensory analysis. The official shape of this vessel is that of a stemless tulip. It is small, and can easily fit inside the palm of the hand. This is of the utmost importance, because the ideal temperature for tasting oil is around 28 °C. The mouth of the glass is narrower than its body, so that all the scents and aromas tend to remain inside. The vessel is made of thick, annealed glass, to keep it from cracking, and is always of a dark colour – typically, a deep cobalt blue – so that its contents is hidden to the eye and cannot influence the evaluation.
In 2016 Mr Luigi Caricato, journalist and founder of the cultural movement Olio Officina, appointed cartoon artist Mr Valerio Marini to design two special postmarks dedicated to oil sampling and, more specifically, the tasting glass, in celebration of the fifth Olio Officina Festival.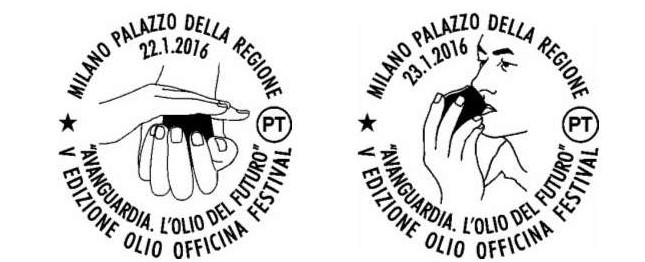 Frantoio Fratelli Turri was the first olive mill to establish sensory analysis panel tests in Veneto. Our founder, Giancarlo Turri, understood the need to highlight the scent and flavour of a good oil, and commissioned a glass factory in Murano to make the first tasting vessels, equipped with watch-glasses to trap the aroma inside.